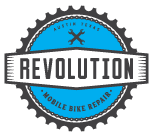 Welcome to the Revolution Mobile Bike Repair Corporate On Site Sign Up
We are excited to be on campus to get you ready for National Bike Month and for the rest of the riding season!
The event dates are Tuesday May 21st, Wednesday May 22nd and Thursday May 23rd
Services Offered
Cirrus Logic will subsidize 50% of the cost of the following services.
The subsidy will only cover labor costs.  Employees will also receive a 10% discount on any parts or accessories purchased during the 3 day event. We carry most consumable type items with us in the shop (tubes, chains, brake pads, etc).
Basic Tune Up
Regular price $55
Brake Adjustment front and rear

Shifter and Derailleur Adjustment front and rear

Spot Wheel True front and rear

Lube Cable and Housing for Brakes and Derailleurs

Tighten all bolts to proper torque spec

Lubricate the Chain

Inflate tires to proper pressure

Security Check for All Accessories, i.e. Water Bottle Cages, Light, Computer, etc.

Replace bar end plugs, if missing
Pro Tune Up
Regular price $90
Basic Tune Up plus…

Precision Wheel True of both wheels

Bottom Bracket inspection and Torqued to Correct Specification

Headset Inspection and Bolts Torqued to Correct Specification

Install New Cables and Housing for an Additional — $25(normally $35) for Bikes with mechanical Brakes , $12.50(normally $17.50) for Bikes with Hydraulic Brakes
Pro Tune and Drivetrain Clean
Regular price $125
Basic Tune-Up Services Plus:

Drivetrain Clean Service

Precision Wheel True

Headset Check and Torqued to Correct Specification

Bottom Bracket Check and Torqued to Correct Specification

Torque Crank Bolts

Torque Crank Arm Bolts to Correct Specification

Bike Wash

New Drivetrain Parts are Installed for Free
How sign up works
**Time slots are placeholders for the day, not appointment times.  Bikes can be dropped off the morning of your service day when you arrive to work and Revolution will contact you when your bike is ready for pickup.
We will be located near the entrance to the Cirrus Logic Commons
There are 8 sign-up spots each day.  They are listed as hour time slots, but they are simply placeholders for the day.
Choose preferred tuning service from the drop-down. Choose "other" if you have a need other than a tune-up
Pick your preferred day from the calendar
Select any of the remaining time slots
Complete the information and book!
You will receive an email confirmation when the appointment is booked.
If you do not receive a confirmation email, please email me directly: drew@revrepair.com
READ THIS IT'S IMPORTANT!!
 On the Day of your scheduled Service
When you arrive to work on the day of your scheduled service, you will bring your bike to the designated service area.  We will quickly go over your bicycle and discuss any repairs/parts needed. After we receive your approval, your bike will go into the service queue.  When your bike's service is complete, we will contact you directly to come collect your bike and complete the transaction.